Private Party DJ
Besides wedding receptions, Encore also entertains a variety of private parties in Michigan. It's obvious that no one wants to throw a boring event, but it's hard to pick out which company will leave your guests saying, "That was the best party EVER". I want to let you know that you have come to the right place. The only complaint we want to hear is how much your feet are hurting from dancing all night. You can say we're confident and we have the references to prove it. We are invited to over 300 events every year. Our team has also had the privilege of working inside of the Toledo Zoo and with other popular companies. Watch the Proplogix video below to see what else Encore can provide beside disc jockey services.
We've entertained a large amount of successful events including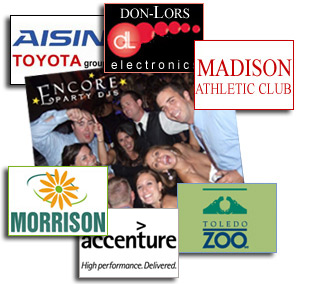 • Anniversary Parties
• Birthday Gatherings
• Couple Engagement Parties
• Grand Openings and Ribbon Cutting Ceremonies
• New Year's Eve Celebrations
• Class Reunions
• Awards Gala
• Corporate Holiday Event
• Public Fund Raisers
• Outdoor Pool Parties
• Sweet 16
• Bar/Bat Mitzvah with BBOY Breakdancers
• Formal Banquets
• Backyard Graduation Parties
• Surprise Retirement Party
• and the list goes on…
Family and friends will thank you for the great time. You supply the people and power, we'll deliver the party. Another popular service that highlights your space is Michigan uplighting. We can match the room with the color of your choice. A great way to add fun to your party is with a photo booth. They are great for capturing all your precious memories.
More Options = The BEST Events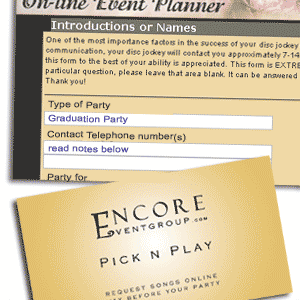 We make it easy to create your song list on our website. We'll even give your guests the same choices with Pick n Play. Send these password protected cards in the mail with your invitations & get guests involved. This is the perfect solution for creating rapport with the audience, & we all know an involved audience will do more dancing.
Besides the ability to create must play songs, you can also coordinate all your party details. This client area gives us the chances to understand what's important to you. Let us know names of any special guests as you fill in a timeline. The only thing you have to worry about is enjoying your party, we will do all the worrying for you. This means we make sure your other vendors do a great job for you. So we'll keep everyone on the same page.
You can never have enough pictures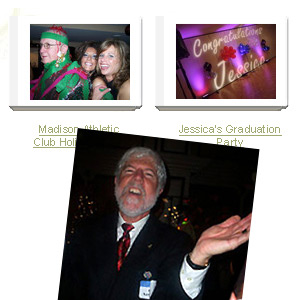 It will be hard to take photos off all your guests during the party, this is one of the reasons we have taken GlamCam images during some events.
They say a picture is worth a thousand words, and you better believe it. We can even get those photos that your photographer missed. Typically photos will include guests on the dance floor having a great time. We have even taken formal shots of guests during the event if requested.
Most companies have a small light show that they upsell. Not only is ours included, but it really enhances the dance floor. Our lighting is controlled via computer which means it changes with the mood of the party. We specialize in lighting design, which means we have tons of ideas.
"we can create almost any atmosphere you want…"

The video above features Encore draping, furniture, and our LED robot Chroma-Tron. Lighting and DJ production were provided by another company listed in the video description.
We started Encore to give guests the best experience possible. Our goal has always been to deliver more than just music. You can expect our best every time. Since we're not a cookie cutter company, you can pick and choose from the unique options we have available. This will be the party guests talk about well after it is over. Check your date above and learn more about the company that has the BEST options done your way.
For great options from a reputable company, message us here or call 877.643.8368