Lighting Design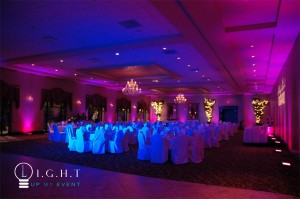 Lighting design paints your room with color. This includes wall lighting, custom image projection, center piece pin spotting, and ceiling washes. Transform any room with the color of your choice. It will make for one awesome backdrop in photos. Since lighting is computerized it will change with the mood of your room.
Trust us, your guests will give you tons of compliments. Even your other vendors will tell you how beautiful your room looks.
"We make guests say, WOW…"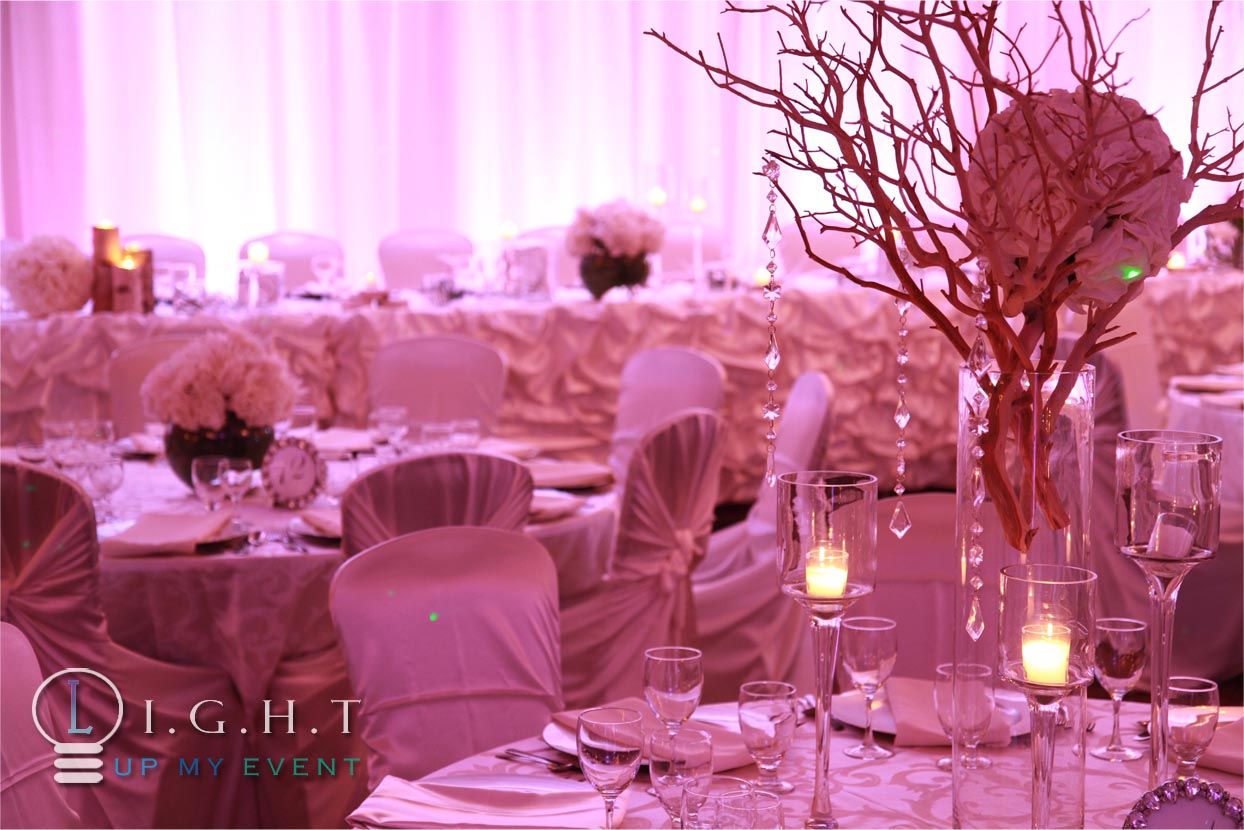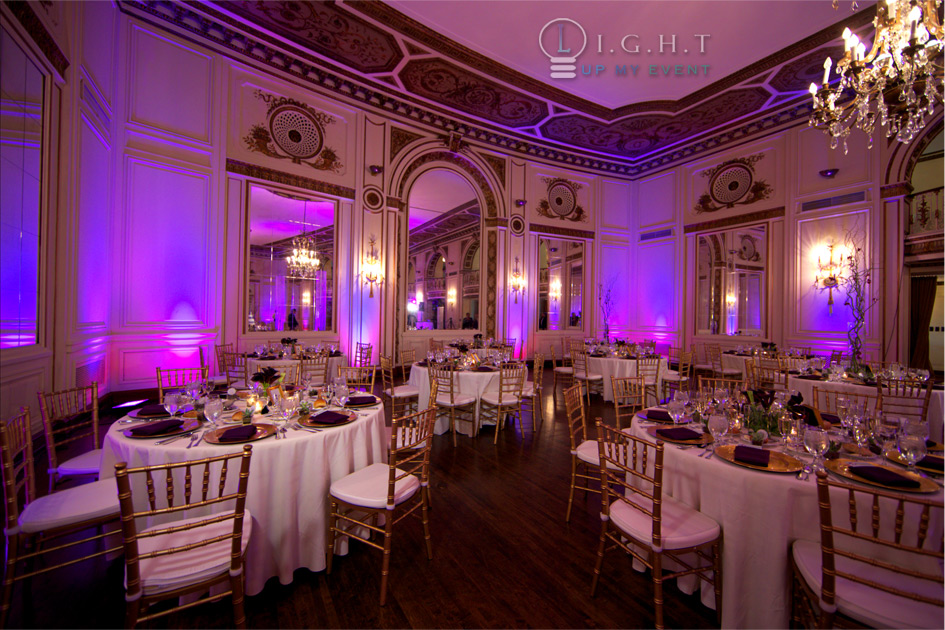 Match Your Room with Your Color
What color will you use for your big day? The brighter your color, the better your results. Colors that are high in saturation show up better. This includes vibrant oranges, baby blues, pastel pinks, and festive greens. The most common solution we do for weddings is wall washes. This is accomplished by placing LED fixtures at the base of your walls around the perimeter of the room. During dinner and cocktail hour, lighting will match your linens and bridesmaids dresses. During the dancing portion of your evening, lighting will slowly fade between colors For example, if we play Lady in Red your whole room is red… if we play Usher Yea, your room is green like the music video. Your walls can even change color with the beat of your music.
Click images below to see some of the 1,000,000 colors we have available
Elegant Weddings have Pipe and Drape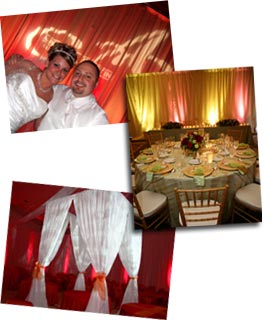 Drapery is just one way to renovate the layout of any reception site. This is commonly done to create a beautiful backdrops behind your head table. Pipe & drape is also used when there are no other lighting choices. If your hall has wood panels or dark colored walls, then pipe and drape will give you a blank canvas.
Click HERE for sample pictures of pipe and drape
You've probably seen some facilities that have walls that need to be covered. Drapery is a great way to fix these situations.You can even re-create separate spaces with pipe & drape. Some couples will use this around grand entrances and lounge areas. When up lighting pipe and drapery, we suggest light colored cloth for optimal color saturation.

.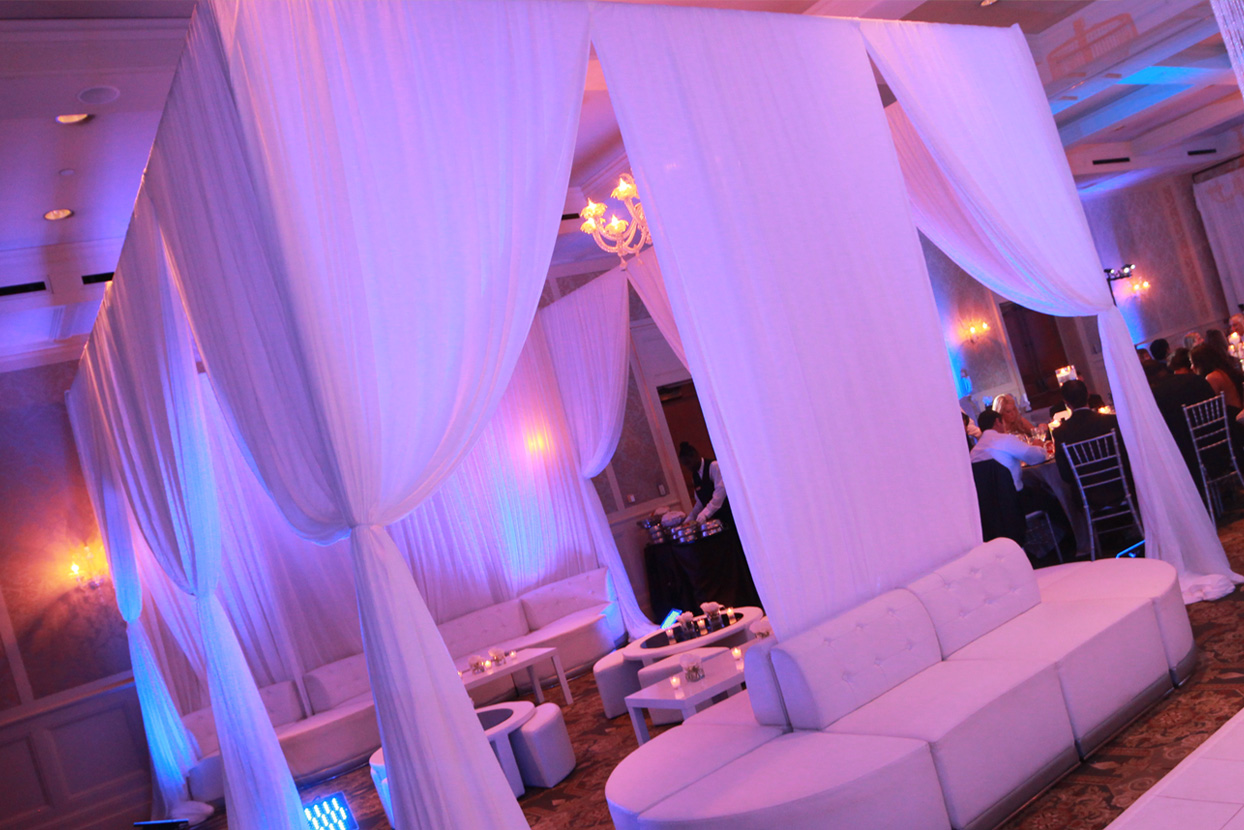 .
Event trees give that natural feel to weddings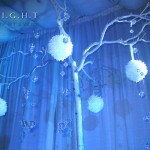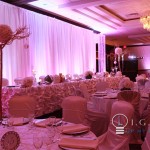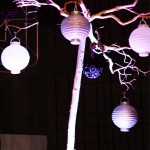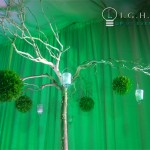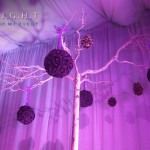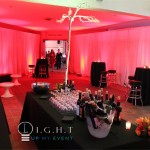 (Click thumbnails above to enlarge)
Event trees are an Encore original. You heard it right, you can have real trees at your wedding reception. Since they work best with lighting, the trees create shadows and add complexity to your room. They have a light texture which means they will be receptive to any color scheme your wedding uses. Your event trees will add a sophisticated vibe in a completely unconventional way. Another great method of highlighting your decor is by hanging crystal-beads, larger than life pinecones, mossy greens, or tying a variety of ribbon colors to branches. There are many more ways to utilize event trees, how will you include them at your upcoming celebration? Click any of the (3) example photos above to enlarge the thumbnail view.
.
14 Foot Tall Hanging Crystal Bead Chandeliers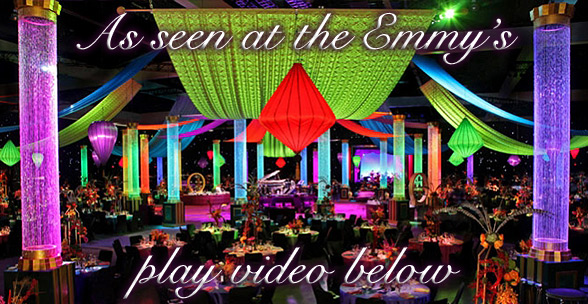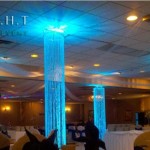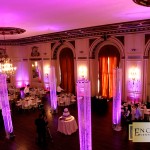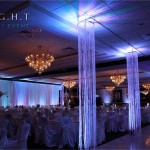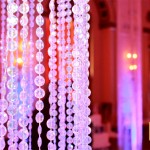 Bistro Lights Give Your Event A Rustic Feel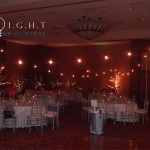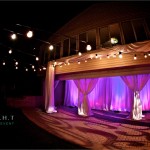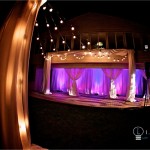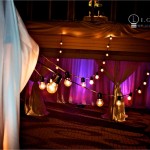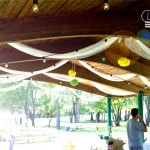 (Click thumbnails above to enlarge)
Are you looking for a more traditional lighting solution? Bistro lights give a rustic vibe in a familiar way. These glass bulbs are used to light your space while adding character. We have used these to span ceilings, walls, & railings in all types of venues. Bistros are placed on a potentiometer to give you complete control with brightness and intensity. Just wait until you hear what guests say about your lighting. Click the images below and see what bistros have to offer your reception.
Make Your Centerpieces Larger than Life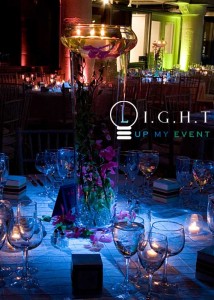 What do you want guests to think when they see your centerpieces? Centerpieces create a focal and pin spotting your tables will make your centerpieces come to life. We position high intensity LED lighting on your centerpieces and make them pop.
You can even incorporate crystal bead strands hanging from branches in tall vases. These crystals will capture and reflect the pin-spotted lighting making your whole room shimmer like stars. All you need to create this stunning effect is (1) lighting fixture per table. Guests will notice all the time you've dedicated to your centerpieces.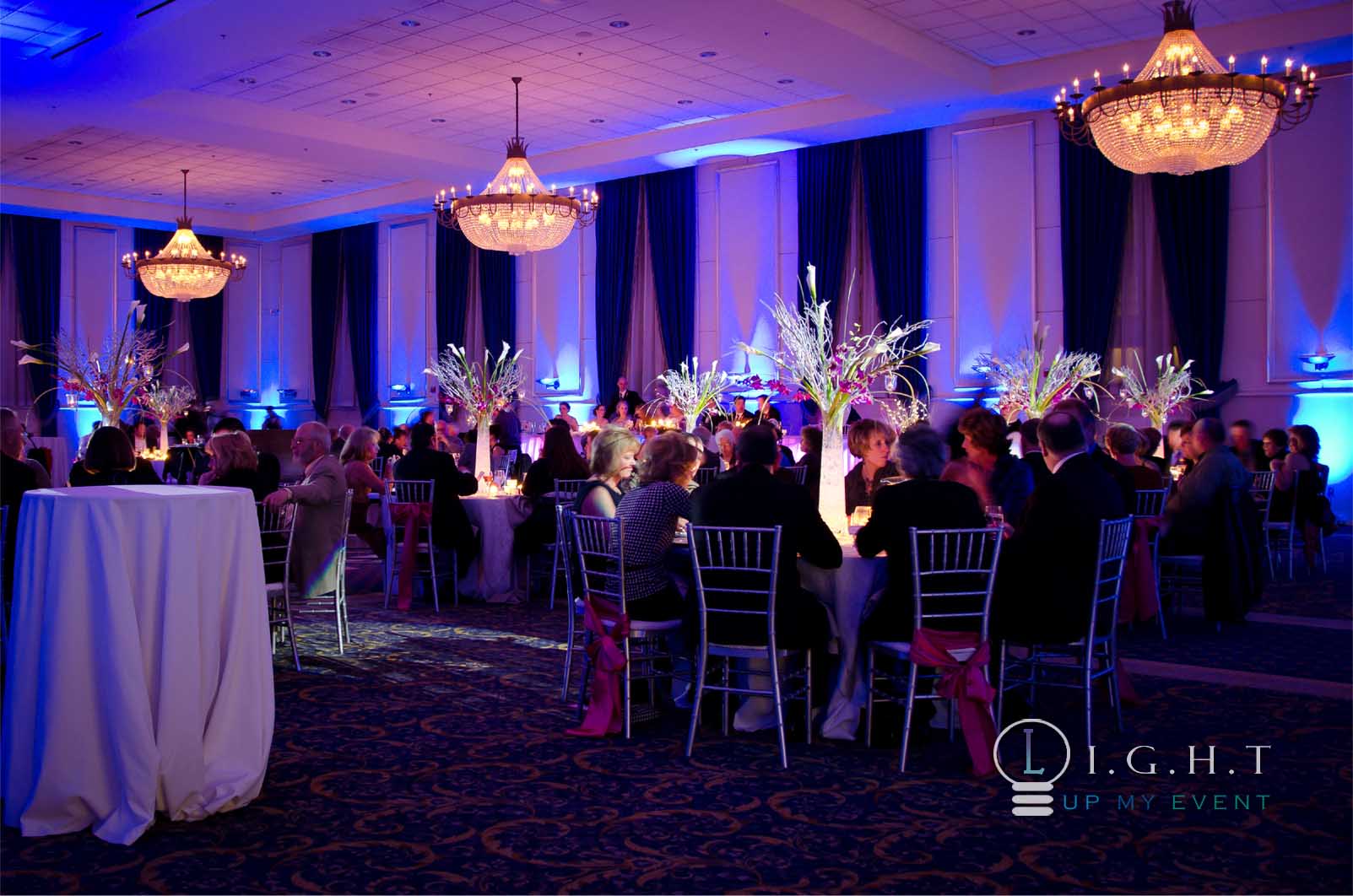 .
Wash Your Ceiling to the Color of Your Choice
A ceiling wash helps top off your room by keeping it well balanced with color. This works especially well for venues that have vaulted ceilings and outdoor tented wedding receptions. The higher the ceiling the more efficiently your colors will blend. Majority of the times your ceiling is done in a secondary color to compliment the primary color. For example you can have teal walls with a light purple ceiling. Since the fixtures are computer controlled, your ceiling will change as the night progresses. Since we use intelligent moving head fixtures, ceiling washes can doubled as a follow-spot for grand entrances and special dances.
For info on how Encore can help you plan your wedding, email us here or call 877.643.8368