Wedding Reception DJ
DJS THAT CARE ABOUT YOUR EVENT AS MUCH AS YOU DO
We take YOUR concerns very seriously. This means our top priority is your vision. If you haven't heard yet, then let me be the first to say that we specialize in classy modern weddings. So let me guess…
you're looking for an AMAZING experience with flexible options
you want to avoid anything that resembles the last 3 weddings you went to
you probably don't want the Chicken Dance or YMCA either
If this sounds like you, then your search is over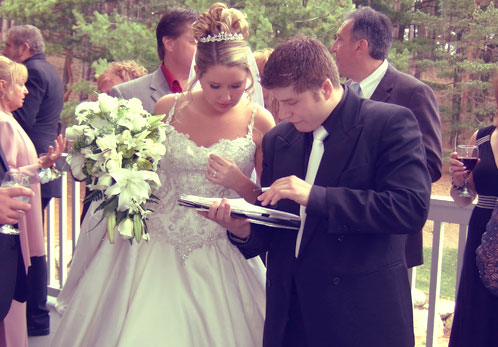 Our team is part of
Encore Event Group
, you can pick from
elegant wedding lighting
and
Michigan photo booths
. Lighting will make for a stunning backdrop in your photos and guests will give you TONS of compliments. You can wash your ceiling in light pink, have your walls match your bridesmaids dresses, even dance inside your name with
custom monogram projection
. With photo booth rentals, you get unlimited photos with amazing quality. Since you are going with the same company you receive more value for your money.
Most importantly you WILL have a unique reception
!

You are trusting a reputable full-time event group company for this important moment in your story. Besides providing the entertainment inside the Toledo Zoo, we have hosted events along side other popular companies. Encore is invited to more than 300 events annually, and over 80% of our clients are planning their wedding, just like you.
"You can say that we specialize in making couples extremely happy…"
We promise to make your wedding reception the BEST EVER by having the following options available for your DJ entertainment package.
Online Planning + Pick n Play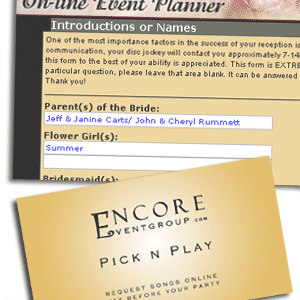 Do you want complete control over your song list and itinerary details? Every client gets a password where they can access all their wedding information 24-7 . You can drag and drop all your favorite songs as "Must Play" and "Do Not Play". If you can't find what you want in our massive libraries, then simply type it in and we will buy it just for you.
When requested, we will also give you however many Pick n Play cards you need (1 per couple). Since they are simple looking, you can mail these out with your invites. These cards have a password so guest can requests songs online, months before your reception. This gives your family and friends a fun way to get involved with the music selection. Don't want to mail out the cards? You can even link the Pick n Play login page via your personal wedding website.
GlamCam + Computer Light Show

During your reception we might take a handful of GlamCam photos. You better bet that there are going to be many great chances to take photos are your wedding. These are photos that your wedding photographer may have missed. Typical shots include shots of family and friends enjoying themselves on the dance floor.
Our basic light show is what other companies charge extra for, and the best thing is it comes standard with your package. Dance floor lighting is computerized & transitions with the mood. Imagine during your first dance, clouds going across your dance floor. If you choose to do parent dances, then the dance floor is a champagne ivory color. If we play "Lady in Red", the whole dance floor is red. If we play "Usher – Yea", it is green like the music video.
Simple

Ceremony Solutions

How will guests hear you exchange your vows during your ceremony. With our Going to the Chapel package, we provide a second sound system for on-site ceremonies. This means that we also equip your officiant with a wireless lavaliere microphone so that everyone will hear you exchange your vows. Besides giving your music playback, you can even drag and drop the exact songs you want for the processional and recessional. This add on includes an hour of time (30 minutes for prelude, 15 minutes for ceremony, 15 minutes for recessional). Oh, and did we mention you also get one AMAZING reception!
Your Perfect Ending…
You are the author of this story, and it is up to you to decide which company is going to help you write it. Let us assist you in planning the wedding of your dreams by contacting us today. We are here to help you, and want to make this decision as stress free as possible. We look forward to getting to know you as a couple and planning this reception with you every step of the way.
For info on how Encore can help you plan your wedding, email us here or call 877.643.8368