Wedding Etiquette: Dealing with Divorced Parents
If your divorced parents are on good terms, count your blessings. If they are not, or if their relationship is marginal, proper handling of their situation can help avoid any unwanted tensions. There are several alternatives you should think of with planning your church wedding and reception arrangements.
Wedding Planning with Divorced Parents
According to protocol, the parent with whom you have lived the longest issues the invites. The other parent is usually not mentioned unless both parties agree to each of their names being represented. Protocol, doesn't always create warm fuzzy feelings. It is best to have both parent's names on the invitations.
When you're introducing your parents to your future in-laws it is usually proper to introduce the parent with whom you've lived the longest, then introduce your other parent. The bride's father almost always walks his daughter down the aisle, except under certain circumstances. If that is not possible, a substitute family member or friend can stand in with the bride. This is typically a brother, uncle or close friend.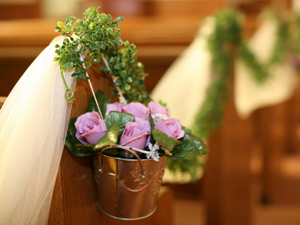 Special church seating arrangements can be made in advance to smooth rough spots. The bride's mother and her immediate family (parents, husband and children) are seated in the first row. The second row is left empty to afford a better view for the bride's father, who after giving her away, is seated with his immediate family in the third row. The same seating arrangements pertains to the groom's family if they are divorced.
During the grand entrance parents can either be mentioned or not recognized depending on their relationship status. If you would like to announce parents during the grand entrance, they can either rise from their tables or walk in escorting their dates. The style you choose depends on what makes you the most comfortable. These small details are very important and can eliminate last minute problems.