Detroit Wedding DJ
Are you planning your wedding in Detroit?
Are you searching for wedding DJ in Detroit?
Do you want some fun options from your DJ company?
Recently, we celebrated with Luke and Nicole for their wedding reception at the Marygrove College in Detroit.
The Marygrove in Detroit has several different banquet rooms for receptions for you to choose from depending on your event style. We DJed in the Madam Cadillac building in the Alumni Hall. I have to say even with 5 weeks to plan a wedding, Luke and Nicole did a FABULOUS job. There was so much detail to admire, and you can tell that the couple really put in the effort so that this would be a night to remember.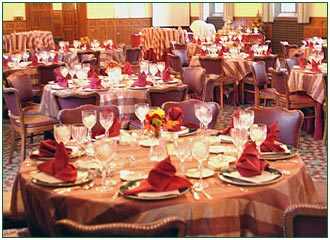 Since this wedding reception consisted of an older crowd, we played mostly cocktail, oldies, motown, jazz, and classic rock. People must have enjoyed it, because there was not one person sitting down at this 75 person event. From experience, I have noticed that the smaller wedding receptions always turn out great. It might be because people know each other and are not afraid to cut loose and enjoy the music.