Don't Forget to Invite Encore Wedding DJs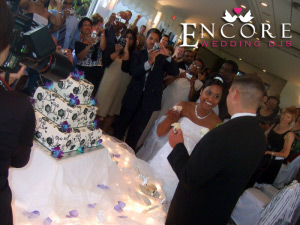 Encore Wedding DJs is a great Michigan wedding DJs site that has helpful articles and company information. Our Modern DJs are part of Encore Event Group, and we are looking forward to discussing how we will make your reception the BEST ever. Our company does a couple hundred receptions a year. As a matter of fact, weddings accounts for over 80% of our business. Besides offering personalized entertainment, you can also bundle elegant lighting and a Michigan photo booth rental with your package.
We know how important of a decision it can be to choose the right company. So we want you to get to know us. We would like to invite you to visit our comfortable studio to find out if our team is a good match for you. We don't have any high pressure sales tatics. It just you and your vision. The initial meeting can last up to 1 hour. We strongly recommend these meetings for packages with lighting and drapery. We don't want to over or under quote you. However, we will transform your venue and make your guests say WOW.
Encore does not cater to cookie-cutter events. What this means is that you get our BEST everytime. We work closely with clients to understand what they are and aren't looking for. On top of that you are also given an online planner to effortlessly organize all your reception details from the comfort of your home. We will contact you the week of the wedding to ensure there hasn't been any last minute changes. Our goal is to give you 110% dedication the day of. This means that we will give your other vendors a heads up and make sure they do a great job.
As you can tell, we take weddings here at Encore seriously. Your happiness is our number 1 priority. From the initial phone to the satisfaction survey we will be there with you every step of the way to make sure we give you an Encore Performance. Unlike other companies, we aren't focused on the next booking. You will get our undivided attention everytime.
So if you are looking for unique options that bundle in value, then "Check Your Wedding Date" on the right. Stay tuned for banquet hall reviews and wedding reception articles. Encore Wedding DJs is looking forward to being part of the success of your special day.