How to be an EXCELLENT Wedding Emcee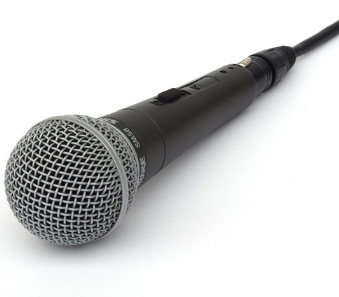 .
A Michigan wedding DJ will act as your 'Emcee'. They are commonly referred to as M.C. or Master of Ceremonies. They will traditionally handle the formal activities throughout an event. Think of them as your personal spokesperson for the evening. The only problem is that they are representing (2) sides of the families. It is important for your wedding emcee to have your best interests at heart. What we did was create a list of 4 crucial things to look for when interviewing companies. It is better to find out before hand if the DJ company you are considering will be able to deliver on your big day.
1.) Gotta be Engaging
One of the most important factors with controlling the flow of announcements is awareness. Your crowd has to understand what is going to happen and why. Very easy right? In a social environment, most people will have a shorter attention span, so it is easier said than done. Once you command the attention of the room, it is the emcee's role to keep them focused on the next activity.
One of the easiest ways an emcee can lose your audience is by lack of creativity with announcements. A majority of emcees will say… Excuse me ladies and gentlemen can I please have your attention… Thank you… Good evening ladies and gentlemen…. To me, you are already sounding like a robot, why would I listen to the next sentence you have to say? Another common mistake most emcees make at a wedding reception is:
Bridesmaid Sarah Wagner with Groomsmen Eric Smith
Bridesmaid Erin Sutton with Groomsmen Josh Quarter
Bridesmaid Jenny Blah with Groomsmen Jerrod Blah
…. blah is exactly right! Did you notice how the 'with' was constantly used? Also how the title was constantly repeated? Now imagine your bridal party has 12 couples! Yikes, your emcee just lost the respect from the crowd, and it will only be a uphill battle for them to regain their trust. Instead of using the word 'with' repeatedly, they should have thrown in the phrases 'and', 'escorted by', and 'accompanied by'.
2.) Never Overbearing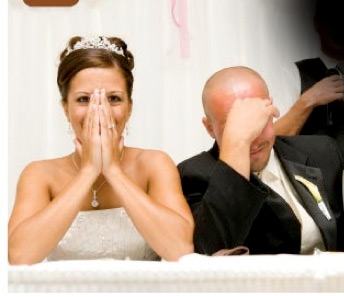 We've all heard of that guy that makes guests do what they don't want to do. There is a difference between being tactful and just downright annoying. Don't be that guy… better yet, don't hire that guy! It is the emcees job to make your guests feel comfortable, so the party develops spontaneously.
Most importantly, they should never put the center of attention on themselves. It should always be redirected back at the guests of honor. What we will normally tell our clients is, "We are your directors and you are our actors. We are going to write a script that you feel comfortable with and put you on stage at the appropriate times. We handle all your details behind the scenes, so you don't have to."
3.) Always Experienced
The one thing we can predict with people is that they will be unpredictable. This is why it is important for your wedding emcee to have many weddings under their belt. You might have a funny moment happen where they will only have an 8 second gap to fill it with a witty off the cuff remark. They might have to restructure the announcements last minute due to changes in the itinerary. Experience and training trump all when it comes to wedding emcee skills.
4.) Extremely Well Polished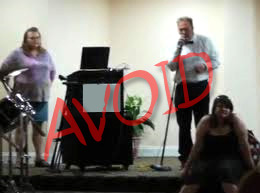 An excellent wedding emcee will have a sharp personality. One of the biggest roles that influence their character is their stage presence. This refers to how guests perceive them while they are "on the stage". Do they sit down while they are working? Are they fidgety? Are they texting on their phone? Are they selective with their body language? How's their posture? Are they smiling? Just some FYI, stage presence should go beyond the stage. While your emcee is working your event, they should have stage presence in the back of their mind constantly. This includes when they walk around the room, if they grab a glass of water, even if they partake in the meal.
The most obvious thing about an excellent wedding emcee is how they sound. You don't want somebody talking that sounds like your co-worker or even worse… an angry family member. There will always be those guys that want to sound like an NBA announcer, but it is better to hear them at a Pistons game than the introduction of your first dance. To sum everything up, an excellent wedding emcee's attitude should convey a friendly yet assertive warmth and trust.