Choose a Michigan Wedding Caterer Service
A fabulously prepared meal is one of the deciding factors of a successful reception. It might be hard to find a person that can cater to the tastes of both families. To help you choose a Michigan Wedding Caterer, we have included some important questions below. Keep these points in mind, and your meal should be deliciously memorable.
Questions to Ask Wedding Caterers in Michigan
What packages do you offer? What do they include? It is best to know what the caterer provides before talking prices. They should be able to give a wide range of possibilities.
Have you worked at my reception site before? Most caterers will prepare food on-site at the reception location to ensure the food is fresh. The cater should know the limitations of your hall, and if they will have to make changes in the way they cook the food.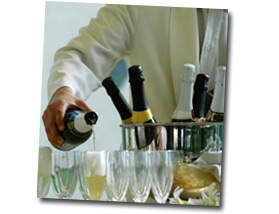 Do you provide beverage service or bar service? It might help to kill 2 birds with one stone. This is also one less company you have to worry about with contracts, payments, yada yada yada. Also if the company does not have a beverage service, then find out if they will pour the champagne/wine. It is a nice touch if the staff helps your guests with their first glass.
Do you have opening or corking fees? This ties in with the last sentence of the previous question. If the company provides this, you should about the charges upfront. Last thing you want to find out is that you owe money for something you didn't know about.
When is the deadline for the final guest count? We all know that your guest list is going to go up and down right up to the day of your wedding. It is hard to decide who makes the A list and who gets cut out. It is typical to say that 15% will not show up. A good rule of thumb is to over estimate in case more than you anticipate show up. Also remember to include your vendors in the head count. They word hard to make sure you and your guests have the time of your life.
Can you provide entrees for my guests who have special dietary needs? Keep in mind that not everyone will like the entrees you selected. As a matter of fact, some guests might have allergic reactions.
Will you provide flatware, china, stemware, etc? More often than not, the hall provides this. If you are having the reception catered at a residency, then you will need to rent plates for the evening. Caterer's that do several events a weekend will most likely have silverware.
Do you supply or arrange tables, chairs, or linens? If your reception is outside, then the tent company will probably be providing the tables as well. If they are not arrange the layout, then who is? Wedding planners can also rent chairs/chair covers. It does hurt to ask your caterer if they can bundle in the chairs/tables.
How will you and your staff be dressed? Any reputable vendor will be able to answer this question quickly. If you are planning a themed event, can they dress accordingly? It is important that guests can easily identify the waiting staff.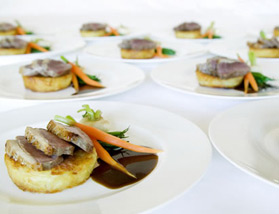 When will we need to finalize the menu? There is usually a deadline for the for the entree selections. The caterer will need to know what ingredients to purchase, and some of them might be seasonal. The sooner you can decide on the menu, the easier it will be for your wedding caterer.
Will the caterer provide wait staff? Most caterers will have a team with them to help assist your guest with the meal. The amount of people they bring will depend upon your guest list.
Do you have references from previous weddings? Always do a background check on any company you are considering. Ask for a list of recent references! The last thing you want to do is call people from back in 1997 (they might not even remember the food). If they give you a list of 3 people, ask for more. If only have 3 references then run!
How far in advance must I book your services? If they are in high demand, then they might book weddings 2 years out. One year is the average for dates that fill fast. Friday and Sundays don't book as fast. If you are planning your wedding during an off month (November – February), then ask for a winter wedding discount.
What is your cancellation policy? When you book 1 – 1.5 years out, a lot can change. We don't want things to, but unfortunately thing might. Since this happens on occasion every year, they should be able to answer your questions. Just keep in mind that Michigan Wedding Caterers reserve your date and turn down thousands of dollars in business to set aside their services for you.

Is a deposit required? If so, when and how much? Your wedding vendor will ask for some kind of deposit and signed agreement as a sign of commitment. This fee is typically 50%, it is also common practice for the remaining balance to be due 2 weeks prior to the wedding day.