Example of Wedding Budget Worksheets
Example wedding budget worksheets are documents you should have created to keep you on track with planning your wedding. Budget forms are used in businesses everyday. Planning a wedding is almost as detailed as running a business, you should not be without one. The main reason for using sample budget sheets is to organize costs and stay within your means financially. Every category should receive a percentage of your overall budget. Some of these costs can be:
1.  Paid for by the bride's parents
2.  Paid for by the groom's parents
3.  Split equally between both families
4.  Shared amongst the parents and the couple
5.  Paid for only by couple
How to Budget your Wedding
The trick to a successful budget is compromising between the bride and groom. Traditional, the bride will want to spend money on the more expensive items, while the groom will want to be more conservative with the budget. Eventually both you and your fiance will have to meet in the middle on your budget and goals. A good piece of advice to compromise on quantity not quality. No bride wants to plan an average reception. You can plan an exceptional celebration on a budget, but you have to draw the line somewhere with your guest count. All of these reasons support why it is healthy to have a budget guideline. Some of the various categories you can use are below:
Bridal Party gifts, Limo, Invites – 2% respectively
Rentals, Misc – 3% respectively
Floral – 10%
Photographer – 11%
DJ and Lighting Designer – 10%
Wedding Attire – 12%
Reception Venue – 45%
The percentages above is a general idea of where to allocate portions of your wedding budget. Whichever category is the most important to you will obviously have a larger portion of your budget dedicated to it. If you stay focused, then you should stay on course with the budget you had in mind. Percentages are calculated off the total cost of your wedding. Example, if you are planning a $20,000 wedding, then $9,000 ($20,000 x 45%) should be set aside for that category.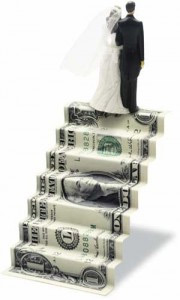 Who bares the burden for paying the bill is determined by family tradition. It can literally be done any way you like. Some cultures have relatives pay for parts as sponsors. It is best to sit down with both sides of the family to find out what they are capable of contributing. Keep in mind the more the families pay, the more likely they will feel the need to give their opinion on wedding planning decisions.
You should have a pretty good idea of what is involved with a sample wedding budget. Time to give you another example. Once again the overall budget is $20,000. This number is actually below the national average for wedding budgets. Now let's change the percentages, giving the DJ and lighting 12% instead of the 10%. This gives you $2200 ($20,000 x 12%) to spend instead of a $2000 ($20,000 x 10%) budget for the DJ. What you consider most important will get higher percentages, and there are many ways you can change the importance. Just consider the suggestions below;
The amount of family and friends in attendance will determine ceremony site (church, synagogue, hotel, club, home) and reception banquet hall – church hall, hotel, club, home, banquet hall
Wedding attire – what will the bride wear
Meal 0and alcohol – what kind of entrees, is this non-alcoholic, cash bar? How will the food be served?
Floral – What type, how many, is everything fresh?
Photography – what level of service, how many locations, how many photographers
Music – DJ Entertainment or band, both, what about uplighting
Rentals – Are you considering renting a photo booth?
Getting Around – a limo, luxury rental car, friend's new car, family car
Your budget should be created around that fact that nothing is set in stone. If you stay flexible on the percentages, then you can adjust for last minute changes. A majority of wedding vendors have package upgrades and add-ons. These can be decided on last minute as you get closer to your wedding date. By then you will have a better idea of how much is left in your budget. Also, some companies will give you a break in price if you decide to add-on something the week of your reception. Upfront costs are typically 50% to reserve your date when the contract is signed. Due to the nature of the business, these are non-refundable. Outstanding balances due date will vary but the standard is 2 weeks.
Go Ahead Start Budgeting Your Wedding
We encourage you to use our advice and formulas above to create a boundaries on what is important and how much to spend. Analyze your budget every week to ensure you don't start overspending funds you don't have available. I know how hard it can be to say no to something you really want, but with a budget you will be able to accomplish more with less. Keep track of how much you paid to who, when the next payment is due, and cancellation policies. One again congrats on upcoming reception and be sure to leave your comments below!