Selecting a Michigan Wedding Ceremony Location
Selecting a Michigan wedding ceremony site is very important. The ceremony is really the heart of your wedding, and picking the right location will set the tone for the rest of the day. Since you have probably never planned a wedding below, we've listed 12 quick points to keep in mind when visiting the location ceremony sites. Do not forget practical considerations such as parking and accessibility.
Pick a Michigan Wedding Ceremony Site
1.) Is your facility open to non-members? Some places are private and require you or your close family to be a member in order to use their facilities. These places include local clubs, country clubs, and yacht clubs.
2.) Do you have any restrictions or limitations on lighting, camera, audio or video equipment? Some venues have audio technicians on staff. They might charge you extra for outsourcing anything they can do in house.
3.) Do you have restrictions on times or days of the week? Some places might have functions planned at various time during the week. This might a strict schedule for setup time for weddings on off days like Sunday.
4.) Are outside musicians permitted to perform? Most places are very flexible with this requirement. There are only a handful of halls that make your vendors sign agreements before they perform at your venue. Some places will have a list of recommended vendors that they prefer. Just because they refer their services, does not mean they are the best. Sometimes wedding vendors will pay thousands of dollars to be on these lists.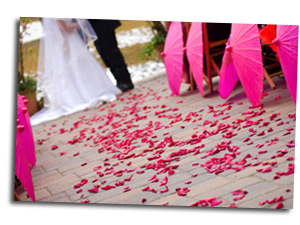 5.) Will any decorations be available through you? Some halls provide chair covers and others can help you with the runner going down the aisle. If the price is right, then this might be a wise choice considering also all the time you will save by going through one vendor. Just make sure to see their previous work and give them a idea of what you are looking for.
6.) Are there dressing rooms? Think about it, it might be hot outside and a dress room would make it more convenient for any last minute pampering before the ceremony. Way better than relying on your limo as a changing room!
7.) When could we have a rehearsal? It is important to plan a rehearsal the night before your big day. Majority of your bridal party will not aware of the formalities involved in the ceremony. You want to make sure they are on cue, and a rehearsal is the best way to get everybody on the same page.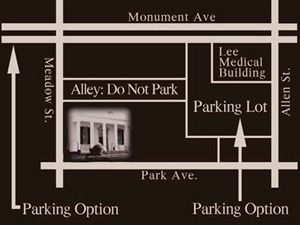 8.) Is ample parking available? You should consider how many people will be at your reception and make sure guests don't have to park a mile away to make it to your ceremony. Last thing you want is your photographer taking photos with a bunch of empty seats. It is also a good rule of thumb to include a map with your invites to where available parking is located in relation to the ceremony site
9.) Are there handicap friendly restrooms? Remember, a percentage of your guests are elderly. It is nice to keep their accommodations in mind as well.
10.) How far in advance must I book your services? Different ceremony locations will start getting booked up at different times of the year. If you really like the site, reserve it ASAP!
11.) What is your cancellation policy? This is a biggie, remember to read the fine print. Most wedding vendors can only handle 1-2 weddings in a day. So when you book them a year out, they are turning down business from that day forward.
12.) What is the deposit? This will vary between a couple hundred dollars to 50%. Some places might be flexible and work with unique situations.