Wedding DJ in White Lake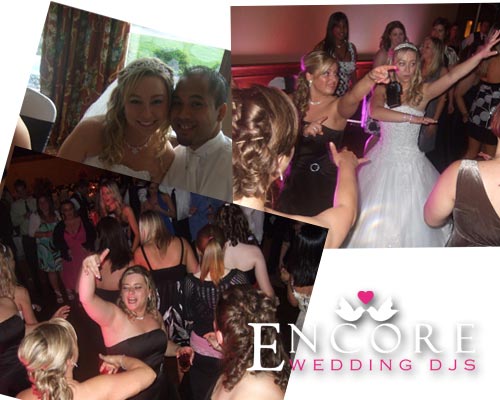 White Lake Wedding DJs
This wedding could not have turned out any better. It was in White Lake Michigan @ White Lake Oaks and we just happened to DJ Walled Lake Notherns prom the night before (pretty much the next city over). It turned out that we had students from WLN @ Richie and Kimmy's wedding reception, they got to party with us twice that weekend lol!
A couple of things to note, they got some lighting design which we put on the wall adjacent to the dance floor. This gave a really neat effect to the area being that the whole wall was changing colors with the music and controlled via computer. I wish that I had a better picture of the effect of this. Richie and Kimmy also went with Basel of Precious Memories Photography for their photos, and they always do a great job. Something else to bring up is that Oaks Management has like 50 different kinds of pastas for there meal, it was the most food I have ever seen.
Also something to mention, one week prior to events we give a pre-event consultation usually via telephone. When I spoke with Kimmy over the phone, she requested the turbo hustle… my jaw nearly dropped!
This story is so true and random that it deserves its own paragraph. I was @ a DJ store buying mucho equipment for the lighting event we had in Bloomfield that weekend. This guys notices that I am buying a ton of lighting and asks "whats the occasion?" I told him what we had going on, and that I owned and managed an entertainment and lighting company. He then asked, "have you heard of the turbo hustle? It is going to be Detroits next hottest Dance and I produced it along with DJ Maestro."
Honestly, the name did not ring a bell. He handed me a CD and dropped some big DJ names that worked the club circuit saying, "they bump this at all their main parties. You should play this at your next wedding!"
I kindly replied that, "I will definitely take a look into it, but most people want songs that they know how to dance to (and being that I never heard of this before I knew it would probably kill any dance floor I had going)."
We shook hands I left with my oggles of lighting equipment looking forward to programming it over the next coupe days to give the maximum effect for the upcoming event.
After driving home for some time, the shiny Turbo Hustle CD still fresh in its cellophane wrapping was peaking my curiosity. I just could not resist and immediately threw it into my 6 disc CD changer. Once the song began I tried to pay attention to the dance moves and realized why they called it the turbo hustle. Only someone that with A.D.D. and $20 worth of redbull could keep up with this song….
left left left right right right
two to the left and two to the right
knee knee bend down
and roll… ROLL
I thought, "are you serious?! Why would someone create this song, it is nearly impossible to do, and you might injure yourself if you attempt any of these dance moves."
Back to the Phone Consultation
Kimmy asked, "do you have the turbo hustle?" I replied, "do I have it? I even met the producer! The question is can you dance to it?" So at their wedding, I watched in awe is Kimmy and Richie did the actual moves to the turbo hustle in front of all their friends and family. It turns out that Richie is actually a break dancer so his moves were on cue. They could not believe that I met the producer of this song, they said they found out about it, because they always mix it in on HOT 102.7. They googled the dance moves and found a youtube instructional video. What was really odd, was that the guy who gave me the CD said you need to play this at your next wedding… KIMMY AND RICHIE WERE THE NEXT WEDDING AND THEY REQUESTED IT!
So for those of you that found this blog looking for the instructional video on how to do the Turbo Hustle, I have the official youtube dance video that shows you all the dance moves and even how to ROLL….ROLLLLL. Now I am going to learn this thing so that I can officially be cool like everyone else. Its turbo time…

White Lake Wedding DJs