Wedding DJ in Holly Garden Park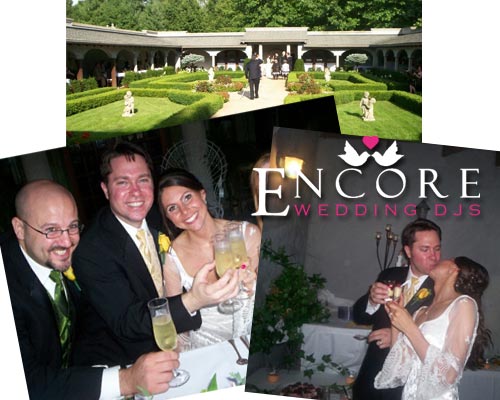 If you are still looking at banquet facilities for your wedding and ceremony, take the time to visit the Garden Park in Holly Michigan definitely classy. . Jeremy and Crystal had their wedding and ceremony there and the evening was perfect, however the night before there was terrible weather. They made sure there were backup generators on-site in-case anything should happen. It is always good to have a plan B for a just in case scenario. Because if you need to resort to it then you will be prepared.
What I really love about the venue is that you have so many options to take photos. Whether it is in their garden with beautiful strolling flowers, or in the pavilion by the shaded pillars, you will get amazing shots everytime. The park is very large giving you plenty of areas for photo opportunities. I am sure if you are working with a photographer you can give them a heads up about your venue location.
We helped the couple with their wedding ceremony since it was at the same location. Since the couple was Jewish they planned a traditional ceremony finishing with the breaking of the glass. A typical ceremony package that we will do lasts only 1 hour. For the first hour we will play prelude music while your guests are arriving. Once everyone is seated the ceremony will start with the bridesmaids song. It is then followed by the bridal march. The ceremony will usually last around a half of an hour. This then leads to the recessional which is signified by the recessional song. At this time during the last 10 minutes guests will make their way from the ceremony to cocktail hour. Sometimes they will even form a receiving line to congratulate the guests of honor.
They also add lighting design to their package so that we could highlight the pillars that overlooked the center garden. We were able to light them up and give them an accent color that really made a difference. The couple decided to have the reception in the main garden area. Besides that you can also plan your wedding under their large tent. We have done lighting in tents with canopy washes and those also look great. Food was catered by the Holly Hotel, which by the way is to die for. Congratulations Jeremy and Crystal and if you are looking for classy wedding DJs in Holly, then check our availability above!
Holly Wedding DJs